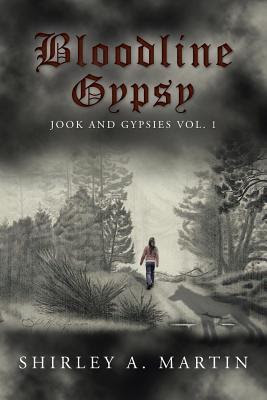 Bloodline Gypsy: Jook and Gypsies Vol. 1 by Shirley A. Martin, published June 29, 2013 by Authorhouse.
Goodreads Blurb:
A supernatural thriller of chilling carnage and primal beauty, Bloodling Gypsy unearths the origin of a mythical creature that has plagued history since the dark ages. Tracing an inherent line of magic back to Eygpt in 981 AD, this dark fantasy reveals the mysterious link between gypsies and werewolves. A yoke that, twelve hundred years later, reveals itself in the form of a birthmark stamped on children born of Louvari descent. When Susannah Henika loses her mother in a tragic accident, she moves to a mountain resort town to live with a father she has never known. She falls victim to night terrors and an impending sense of dread. She meets a woman in the woods, Madalina Sadrinovic, whose uncanny ways set Susannah ill at ease. Strange and foreboding events follow the arrival of Madalins's twin brother Luca, and a local boy goes missing. The American teenager befins to suspect that, somehow linked to the strange markings on her hand. She may be one of the last remaining humans, genetically predestined to bare the offspring of an altered species, a distant ancestor forged into the world.
★★★★
This was recommended to me by a friend from my home town of Big Bear Lake, California, a very small resort town in the southern California mountains.  I looked up the author after I finished her book and found that she lives in Big Bear.  Those of you from small towns may also know that little bit of excitement you feel when you find someone from your town.  So, imagine how fun it is to read a horror set in your home town!  The characters ate at my favorite breakfast place, went hiking where I go, and picked up a stray dog near my church.  I loved it.
I expected this book to be an urban fantasy, but I think it's more on the horror side with an erotic element.  The werewolves are more of the traditional variety rather than what we see in urban fantasy or paranormal romance.  We see a lot of graphic violence and gore in this book.  At times, it is scary, and one of the topics came close to crossing my comfort level.  I leave for work in the morning before sunrise, and one morning I ran to my car after hearing a rustling in the bushes by my front door.  Silly, I know.
I also really enjoyed the history in the book.  Martin brought in the history of gypsy bloodlines and werewolf folktales.  She's a great storyteller.
The ending is a bit of a cliffhanger.  We have no final resolution, but the story and characters are set up.  We also have an alpha male scenario with little to no romance or relationship build-up but gratuitous sex scenes.  This seemed to work in a horror setting and with the werewolf/gypsy folklore.
I gave this 4 stars on Goodreads, but probably would have given it a 3 if I hadn't been so enamored with the setting.  🙂  I recommend it to lovers of horror and werewolves.